Professor



Dr. Frank Bash
Office: RLM 15.204
Phone: (512) 471-3373
fnb@astro.as.
utexas.edu


Course Website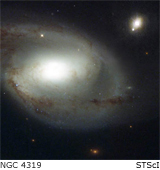 TA



Rob Wittenmyer
Office: RLM 15.202A
Phone: (512) 471-8316
robw@astro.as.
utexas.edu



Text
Horizons: Exploring the Universe, Michael A. Seeds, Wadsworth Publishing Co., 6th Edition

Important! There is a 7th edition. We are using the SIXTH edition. Pages and problem numbers may differ between editions.

Grading, Exams and Homework


a.

There will be two one-hour exams. Each exam counts 25% of your final grade, and thus exams represent 50% of your final grade.
One of the hour exams will be given at mid-term and one at the end of the term.

b.

You will be required to answer an approximately bi-weekly question set. help will be available on the question sets each week in help sessions. Part (b) counts 50% of your final grade. We will give you all the help you need.

c.

Each student in this class will receive a mid-term letter grade computed as above and using the same "curve" as will be used at the end of the semester.


Help
The TA and I will do everything we can to help you do well in the course. Help will be available outside of class several times every week. We will announce times and places of the help sessions about one week after the class begins. Extra help sessions will be held before exams. Since we will be going over the problems in the homework assignments, we ask you not to be late to the help session if you want to hear a discussion of the first problem in the assignment. Endless repeating of the first problem discussion for the benefit of latecomers bores the students who were on time and drives the instructor crazy.

Observing
If you wish, there is a 9-inch telescope available for observing planets and stars, operated by an astronomy graduate student. It is available to you each clear Friday night 9:00-10:00 p.m. and each clear Saturday night 9:00-11:00 p.m. If you would like to learn how to operate the telescope so that you can use it by yourself, see me.