Professor


Prof. Volker Bromm


Office: RLM 16.214
Hours: TBA
Phone: (512) 471-3432
email


Course Website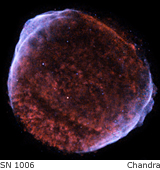 TA


Jarrett Johnson

Course Objectives
We will cover the exciting phenomena happening at the end of a star's life: supernova explosions and gamma-ray bursts, the formation and properties of compact remnants (white dwarfs, neutron stars, and black holes). This will lead us to topics at the current frontier of astrophysics, e.g., the still mysterious nature of the very first stars that formed at the end of the Cosmic Dark Ages. You will learn to look at the physics describing these cutting-edge phenomena, and make things as simple as possible, but still capture the important effects.

Texts
All texts will be placed on reserve in the PMA (RLM 4th floor) and Astronomy Péridier (RLM 15.202) libraries.

The required text is (available at the Co-op):

Dan Maoz (DM), Astrophysics in a Nutshell, Princeton Univ. Press
In addition, this text is highly recommended:
A.C. Phillips (ACP), The Physics of Stars (2nd edition), Wiley
Grading
Your final grade will be based on a point system:


| | | |
| --- | --- | --- |
| Class Participation | | 20 |
| 2 In-class Exams | | 2x20 |
| Homework | | 40 |
We won't have a Final Exam.
The following grading scheme will be used:

A

=
85 - 100

B

=
70 - 84

C

=
60 - 69

D

=
50 - 59

Any score below 50 is failing.

Class Participation
20% of your grade will be based on your class participation. You will participate by solving in-class puzzles, and by giving brief presentations.

Class Attendance
It is important that you come to class. You will not be successful otherwise in following the course material. In addition, we will have unannounced quizzes. If you miss one, there will be no make-up quiz.

Policies
There will be make-up exams ONLY for students with valid excuses. Scholastic dishonesty, in particular any plagiarism, will be prosecuted in accordance with the university guidelines.

Course Calendar