Professor


Dr. Eiichiro Komatsu


Office: RLM 16.210
Hours: MW 5-6;
Other times by appt.
Phone: (512) 471-1483
komatsu@astro.as.
utexas.edu


Course Website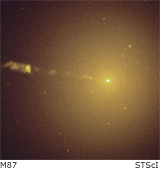 TA



Nick Sterling
Office: RLM 17.312
Hours*: Tu 2-3, Th 4-5;
Other times by appt.
Phone: (512) 471-7418
sterling@astro.as.
utexas.edu

*unavailable Feb. 10-14 and Apr. 14-16

Course Objectives
This course provides an overview of the basic physical picture as well as historical accounts of classic and modern cosmology. Cosmology has been one of the central interest of human beings. Ancient people had a very different picture of the universe than we have now. Since then, our picture of the universe has evolved tremendously as our understanding of physics has advanced, while at early times religious reasons were also necessary to develop cosmological models. Recently, cosmology has entered a new era with precision observations, which reveal new cosmological puzzles that will probably lead us to discover new physics. The lectures will cover cosmological models, expansion of the universe, redshifts, the early universe, cosmic inflation, dark matter and energy, special and general relativity, as well as stars, galaxies, quasars and black holes.

Prerequisites
AST301, 302, or 303, or an equivalent descriptive introduction to astronomy of one semester or more.

Textbook
Cosmology, 2nd edition
Author: Edward Harrison
Cambridge University Press

Class & Help Sessions

Class meets at WEL 3.502 on MWF 9-10.
Help sessions will be scheduled for help with the homework and exams.

Location: RLM 15.216B; Time: 5-6pm
Homework &amp Exams
There will be 5 homework assignments. These will be written assignments and reports. All written assignments must be in computer-generated format - no hand written work. Some of the assignments may involve problem-solving and math.


Homework assignments will not be counted after the due date. Homework can be done in groups (and I encourage this) but you must hand in your own work. Homeworks that are duplicates will have severe penalties. You may get help on homework (or anything else) from the professor or TA during office hours, help sessions, or by appointment.


The midterm and final will consist of multiple choices. The penalty for cheating on an exam is a score of zero for the exam, and the zero will be included to calculate the final grade.