Professor


Volker Bromm


Office: RLM 16.214
Hours: TBA
Phone: (512) 471-3432
email


Course Website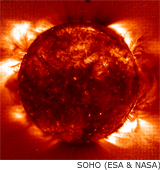 COURSE OBJECTIVES: The physics of stars is a fantastic subject. We will cover: The basic principles of stellar structure. Stellar evolution from the Hayashi track to compact remnants. Stellar models. Stellar stability and pulsations. Stellar rotation and magnetic fields. The physics of star formation. The formation and properties of the first stars (Pop III).

TEXTS:

The required text is (available at the Co-op):
Hansen/Kawaler/Trimble (HKT), Stellar Interiors (2nd edition), Springer
There are two optional/recommended texts (also available at the Co-op):
Bodenheimer et al., Numerical Methods in Astrophysics, Taylor & Francis
Kippenhahn, 100 Billion Suns, Princeton
In addition, you might find useful (on the reserve shelf in Peridier):
A.C. Phillips, The Physics of Stars (2nd edition), Wiley
Kippenhahn & Weigert, Stellar Structure and Evolution, Springer
Stahler & Palla, The Formation of Stars, Wiley-VCH
GRADING: The final grade will be based on a point system:
| | | |
| --- | --- | --- |
| In-class Exam | | 30 |
| Numerical Project | | 30 |
| 4 Problems Sets | | 40 |
HOMEWORK AND PROJECT:
The 4 smaller problem sets and the one more extended project will contain analytical and numerical parts. I assume that you know one high-level language (C, Fortran, IDL, Mathematica, ...), enabling you to solve problems numerically. Please ask if you feel you need to catch up on your computer literacy. I will be glad to suggest ways to quickly get up to speed if necessary.
The following grading scheme will be used:
A

=

85 - 100

B

=

70 - 84

C

=

60 - 69

D

=

50 - 59

Any score below 50 is failing.