| | |
| --- | --- |
| AST 352K · Stellar Astronomy | 1 2 3 4 5 |
previously seen all of them. So we will introduce the needed physical ideas and laws as we go along. Furthermore, our main interest will lie in applying physical principles to astronomical situations, rather than in carrying out derivations from scratch, and the mathematical manipulations you will execute in the homework problems will mostly be at the level of algebra, trigonometry, and simple calculus.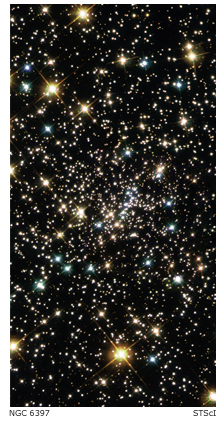 Astronomy: Many students will have previously taken an introductory astronomy course, such as Astronomy 307 or 301. This is not a requirement, although such students may have the advantage of greater familiarity with some astronomical terms. For those have not taken such a class, I have placed two copies of Jeff Bennett's "Cosmic Perspective," a popular textbook for introductory courses, on reserve in the PMA Library to use for reference. If you have a different introductory textbook, it can probably serve the purpose equally well.

Textbook:
The primary text for Ast 352K this semester will be a set of Instructor's Notes which will be posted on the course website (in sections) as pdf documents. Textbooks for courses at the level of Ast 352K are scarce. Probably the most widely used such book is "An Introduction to Modern Stellar Astrophysics," by Ostlie and Carroll (it was used by Prof. Jaffe in fall 2005). I decided not to declare it as a required text, partly because I will not necessarily follow the book exactly, and partly because the second edition - just published - is very expensive, and does not use my favorite system of physical units. However, I expect to use some material from Ostlie, especially figures, in my lectures and notes, so I have placed the PMA Library's copy on reserve (on 2-hour checkout). Several other books that may be useful will also be placed on reserve in PMA.

Required Work & Grading Breakdown:
Hour and Final Exams: There will be a comprehensive final exam during the official exam time: Thursday, December 14, 2 - 5 PM. The final exam is worth 20% of the grade, the same as each of three in-class hour exams given earlier during the semester. If you take all three of these hour exams and are satisfied with your grades, you don't have to take the final. If you take it anyway, and do better than on one of the previous exams, this higher score (on the final) will replace lower score. I do not give make-ups for missed exams, even if they were missed for a valid reason; in my classes, the final exam serves as the universal make-up. Therefore, you need to plan to be available at the time of the final exam; I will not be sympathetic to students who want to take the final but have made arrangements to be out of town on the exam date!

Homeworks: Other required work for this course will include problem sets (homeworks), assigned somewhat less often than weekly. Depending on how many are given, the lowest one or two grades will be dropped. Please note: homeworks are not group projects. You may talk with your fellow students about general ideas, but the work you turn in must be your own. In cases of identical (copied) answers to the problems, neither paper will receive credit.