Professor


Paul Shapiro


Office: RLM 16.204
Hours: TBA
Phone: (512) 471-9422
email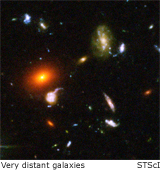 Syllabus ( pdf )
Course Description ( pdf )

Textbooks
Padmanabhan, T. 2002, Galaxies and Cosmology
(Course in Theoretical Astrophysics, Vol. III) (Cambridge Univ. Press)

Exams
None

Homework
(1) Problem sets will be assigned.
(2) One end-of-semester student lecture on a topic selected in consultation with the professor, with lecture notes handed in.

Grading
Course grade will be based upon the problem sets and student talk/lecture notes.

Prerequisites
Suitable for all beginning or advanced graduate students in astronomy or physics. Previous course in cosmology not required. Students who have taken AST 396C (PHY 396T) "Elements of Cosmology" or its equivalent or plan to do so in the future will find this course a useful complement.

Course Description
Our universe at large is well-described, on average, by the standard Big Bang model of cosmology, in which a homogeneous distribution of mass-energy expands uniformly and isotropically from an initial space-time singularity, in accordance with the expectations of Einstein's General Theory of Relativity. Shortly after its birth, our observable universe was extraordinarily smooth on all scales. Today, however, it is highly structured, populated by galaxies, clusters, and superclusters of galaxies surrounded by huge regions devoid of galaxies, with most of the volume permeated by a clumpy intergalactic medium of diffuse gas. How this cosmic structure arose over the last 14 billion years from an otherwise smooth, featureless beginning at the initial moment of the Big Bang will be the subject of this course.