| | |
| --- | --- |
| AST 301 · Introduction to Astronomy | 1 2 3 |
Homework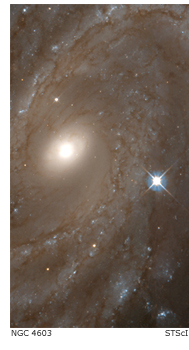 There will about 6 homework assignments. These will be written assignments and reports. All written assignments must be in computer-generated format - no hand written work. Some of the assignments will involve problem-solving and math. Homework will be graded on presentation, style, and content. Homework assignments will not be counted after the due date. Homework can be done in groups (and I encourage this) but you must hand in your own work. Homeworks that are duplicates will have severe penalties. You may get help on homework (or anything else) from the professor or TA during office hours or by appointment.

Exams
The midterm and final will consist of multiple choice, short answer and essay answer. The in-class exams will be short (roughly 20 minutes) quizzes testing conceptual understanding of the basic materials covered during the course. The penalty for cheating on an exam is a score of zero for the exam, and the zero will be included to calculate the final grade.

Grading
The students final grade will consist of:

25% homework
25% midterm
25% final
25% in-class exams and class participation

There will be make-up examinations ONLY for students with valid excuses. The lowest quiz score will be dropped (so you can miss one quiz), otherwise no make-up quizzes unless you have a valid excuse. Also the lowest homework will be dropped.

The following grading scale will be used: 90+=A; 80-89=B; 70-79=C; 60-69=D. Any average below 60 is failing.

FYI: Lab Course
For those who are interested in doing some lab astronomy, there is a lab course:


AST101L - FALL2004 - ASTRONOMY DISCOVERY LAB


Class meets at RLM 13.132 on either of

Tuesdays

12:30-1:30pm

Unique No. 47800

Dr. Dan Jaffe

Wednesdays

11:00-12:00pm

Unique No. 47795

Dr. Eiichiro Komatsu

Wednesdays

2:00-3:00pm

Unique No. 47805

Dr. Eiichiro Komatsu



This course will fulfill lab requirement for those who will need it. If you need to get more information, please contact Stephanie Crouch (RLM 15.202AA; (512) 471-3350). You may also get some information from the Astronomy Discovery Lab website.