Professor



John Lacy
Office: RLM 16.332 & 16.334
Office Hours: M-F 10:00-11:00
Phone: (512) 471-1469
lacy@astro.as.utexas.edu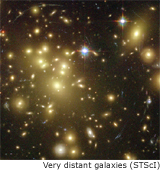 Course Website


TA



Qingfeng Zhu
Office: RLM 16.212
Office Hours: Th 3:30-5:30
Phone: (512) 471-8443
zhuqf@astro.as.utexas.edu



Course Contents

We will present an overview of the contents of the Universe, with a physical explanation of what is there. The emphasis will be on how astronomers study the Universe and explanations for what they find, rather than on descriptions. College-level physics and calculus are not required, but we will use high school math (some trigonometry) and science (Newton's laws).

Text

"Astronomy Today", by Chaisson and McMillan

Note: this book is aimed at non-science majors, and so uses less math than we will use. Lectures will give more quantitative explanations.

Homework

Homework will be assigned each Friday, due at the beginning of class the next Friday. Late homework will receive 1/2 credit. You may get help on homework (or anything else) from the professor or TA during office hours or by appointment. You are welcome to work on homework with other students, but verbatim copies of homeworks will not be accepted.