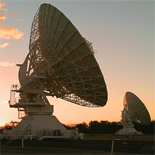 TTh 11:00-12:30 · JGB 2.216
Unique Nos. 63760, 63765, 63770, 63775, 63780, 63785
Professor
RLM 15.214 · (512) 471-3302 · email
Courses - Spr '09 | Course Website
Extraterrestrial Life Schedule
Printable Schedule (pdf)
Schedule:
Be sure to do the reading assignments
before
the class they are assigned for. Those who are prepared and ask questions or contribute to discussion will receive extra credit. If the scheduled office hours are not possible for you, we will make appointments for other times. Reading Assignments refer to chapters in the Class notes (Evans) or to the whole of the novel
Contact
by Carl Sagan. You should start reading
Contact
by about Spring Break, marking passages that discuss communications or travel ideas. Then review these before classes when those topics are discussed.
| | | | |
| --- | --- | --- | --- |
| Date | Topic | Reading Assignments | Drake Equation Factor |
| 1/20 | Course Overview | 1 | |
| 1/22 | Origin of Elements | 2 | |
| 1/27 | Origin of Stars | 3A-3C | R* |
| 1/29 | Origin of Planets | 3D | fp |
| 2/3 | Nature of Solar Systems | 3E | |
| 2/5 | Habitable Planets | 3F | ne |
| 2/10 | Habitable Planets | 3F | |
| 2/12 | Nature of Life | 4A | |
| 2/17 | Test 1 (Ch. 1-3) | | |
| 2/19 | Origin of Life | 4B-C | fl |
| 2/24 | Origin of Life | 4D | |
| 2/26 | Alternatives | 4E-4G | |
| 3/3 | Life in Solar System | 5A-B | |
| 3/5 | Life in Solar System | 5C-D | |
| 3/10 | Test 2 (Ch. 4-5) | | |
| 3/12 | Biological Evolution | 6A | |
| 3/17 | Spring Break | Start Reading Contact | |
| 3/19 | Spring Break | | |
| 3/24 | Origin of Intelligence | 6B | fi |
| 3/26 | Cultural Evolution | 7A | Paper topics due |
| 3/31 | Evolution of World View | 7B | fc |
| 4/2 | Lifetime | 7C | L |
| 4/7 | Future of Civilization | 7D | |
| 4/9 | Test 3 (Ch. 6-7) | | |
| 4/14 | Drake Equation | 8 | N, r |
| 4/16 | Communication | 9A-D | Paper due |
| 4/21 | Communication | 9E | |
| 4/23 | Contact (Communication) | Contact | |
| 4/28 | Travel | 10A-B | |
| 4/30 | Visitations? | 10C | Paper rewrite due |
| 5/5 | Contact (Travel, Reactions) | Contact | Course evaluation |
| 5/7 | Test 4 (Ch. 8-10 & Contact) | | |