Public Viewing Austin
RLM 16-in Telescope
Painter Hall 9-in Telescope
Colloquium
Tinsley Visiting Scholar
SPHERE: the New High-contrast Imager for the ESO-VLT
INAF-Osservatorio Astronomico di Padova
Tues., Mar. 31, 3:30 PM
RLM 15.216B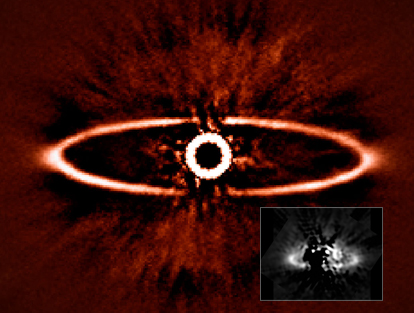 ESO/J.-L. Beuzit et al./SPHERE Consortium
SPHERE: High-contrast Imager for ESO-VLT
This infrared image of the dust ring around HR 4796A illustrates the capability of newly commissioned SPHERE, on the ESO-VLT, to directly capture detail and reduce glare from a star. The inset is the same ring captured by Hubble. Dr. Raffaele Gratton discusses SPHERE instrumentation principles and early results Tues., Mar. 31 at 3:30 PM in RLM 15.216B.
Freshman Research Initiative

Weekly Calendars
Meeting Rooms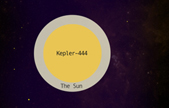 Astronomers Discover Ancient Solar System with Five Earth-sized Planets
McDonald Observatory Press Release
27 January 2015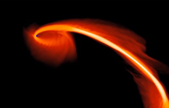 Black Hole Chokes on a Swallowed Star
McDonald Observatory Press Release
26 January 2015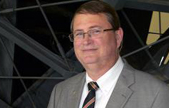 Craig Nance is New Superintendent of McDonald Observatory
McDonald Observatory Press Release
5 January 2015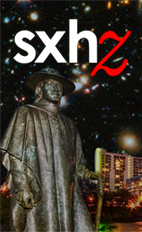 Symposium South by High Redshift Convenes Wednesday April 1-3, 2015
More than 100 researchers from around the world will participate in the symposium South by High Redshift, April 1-3, 2015 at the AT&T Executive Education and Conference Center on the campus of The University of Texas at Austin. The meeting will feature more than 50 presentations concerning the formation and evolution of galaxies during the first two billion years after the Big Bang. Topics include simulations of the first stars, galaxies and supermassive black holes, the epoch of reionization, theory and observation of galaxy evolution, and dusty star formation at the highest redshifts.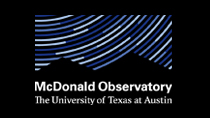 McDonald Observatory
Under dark skies in West Texas, McDonald Observatory hosts a wide range of research telescopes and instrumentation for astronomers, including the 9.2 meter Hobby-Eberly Telescope. The observatory also welcomes the public, with exhibits and talks at the Frank N. Bash Visitor's Center, and regular star parties in the Rebecca Gale Telescope Park.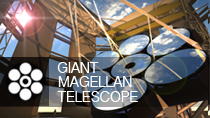 Giant Magellan Telescope
The University of Texas at Austin is a partner in an international consortium of science institutions building the next generation, 24.5 meter, Giant Magellan Telescope at Las Campanas, Chile. Construction is underway at this premier viewing site. Preparation of the Spincasting oven for the fourth primary mirror continues into 2015 at Arizona's Steward Observatory Mirror Lab.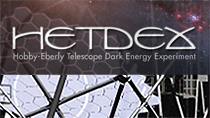 Hobby-Eberly Telescope Dark Energy Experiment
In August 2013, an upgrade began for the 9.2 meter Hobby-Eberly Telescope. A widened field of view, and 150 integral field spectrographs will give HET the ability to map the expansion of the early universe. Scheduled to begin in 2015, the HETDEX survey will precisely measure more than 800,000 galaxies, to examine their distribution as the universe evolved.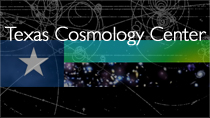 Texas Cosmology Center
The Texas Cosmology Center was established to facilitate interdisciplinary efforts in Cosmology between the departments of Physics and Astronomy at the University of Texas at Austin. As a public outreach effort, four videos have been produced featuring Texas cosmologists, on Black Holes, Cosmic Inflation, Dark Energy and Dark Matter.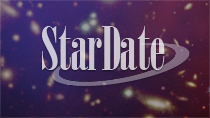 StarDate
StarDate is a public education and outreach arm of McDonald Observatory. StarDate radio, featuring science, astronomy, and observing tips, airs daily on nearly 300 stations. Bi-monthly StarDate magazine features sky tips, charts, and astronomy and space exploration news. StarDate also offers resources to teachers, the media, and the public.