WHAT YOU WILL DO IN THE
COSMIC DAWN RESEARCH STREAM
Paul Shapiro's research group uses state-of-the-art supercomputer simulations of the formation of the first galaxies and large-scale structures (see image below) to study the epoch of first light (also called cosmic reionization).
As a student in the Cosmic Dawn research stream, you will get to analyze and visualize new cosmological simulations. These simulations will utilize the computational resources of the Texas Advanced Computing Center, and will be among the most advanced in the world.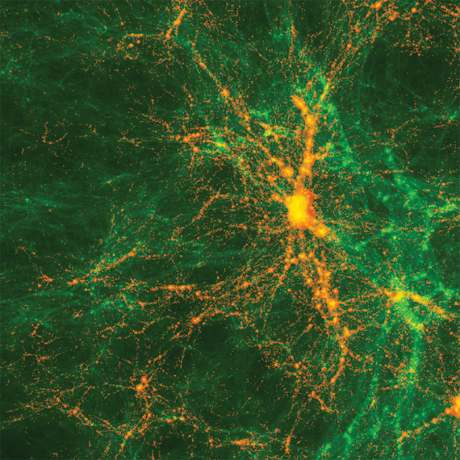 Above: A snapshot of a cosmological computer-simulation performed by Paul Shapiro's group. The intricate 'cosmic web' represents the distribution of matter in the simulated universe. The orange portions show matter that is bound in clumps called "halos" - the formation sites of the first galaxies - while the green portions show matter outside of halos.