RESEARCH TEAM CONTINUED...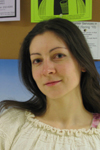 Tanja Rindler-Daller is a postdoctoral researcher with Paul Shapiro and the Texas Cosmology Center. She did her master's and doctoral studies in Physics and Astronomy at the University of Vienna, finishing in 2007, and was a postdoc at the University of Cologne before she joined UT Austin. Her research interests are galactic structure and gravitational dynamics, quantum and classical many-body and statistical physics, and the nature of dark matter.

Hyunbae Park is a 3rd year graduate student in Dr. Shapiro's group. He received his Bachelor's degree in Astronomy from the Seoul National University in 2010. His research interests include cosmological structure formation, cosmic microwave background and cosmic reionization.
THE SPRING 2012 STUDENTS