RESEARCH TEAM CONTINUED...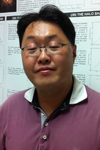 Junhwan Choi is a postdoctoral researcher with Paul Shapiro. He received his B.S. in Astronomy at the Yonsei University in Korea, and his Ph.D. in Astronomy at the University of Massachusetts at Amherst. His research interests are numerical and theoretical Astrophysics, with a particular focus on galactic dynamics, galaxy formation and evolution, and the early Universe.

Hyunbae Park is a 3rd year graduate student in Dr. Shapiro's group. He received his Bachelor's degree in Astronomy from the Seoul National University in 2010. His research interests include cosmological structure formation, cosmic microwave background and cosmic reionization.
THE SPRING 2013 STUDENTS