WHAT YOU WILL GAIN
Instructors will provide you with the necessary background to participate in original scientific research in Cosmology and Astrophysics. This includes (but is not limited to) elements of computer programming, an introduction to supercomputing, physics, astronomy, and mathematical techniques. You will interact with experienced researchers in a team effort to break new ground in this exciting field.

Paul Shapiro is the Frank N. Edmonds, Jr. Regents Professor in Astronomy at the University of Texas, Austin. He received both his A.B. (1974) and Ph. D. (1978) from Harvard University. He is a leading researcher in the fields of cosmic reionization, cosmological structure formation, and astrophysical hydrodynamics and has taught at the University of Texas for over 30 years.
Email: shapiro@astro.as.utexas.edu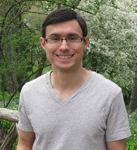 Research Educator Anson D'Aloisio is a postdoctoral researcher in Shapiro's group. He received his B.S. in Physics at the University of California, Riverside, and his Ph. D. in Physics at Yale University in 2011. His research interests include cosmological structure formation, gravitational lensing, and cosmic reionization.
Email: anson@astro.as.utexas.edu