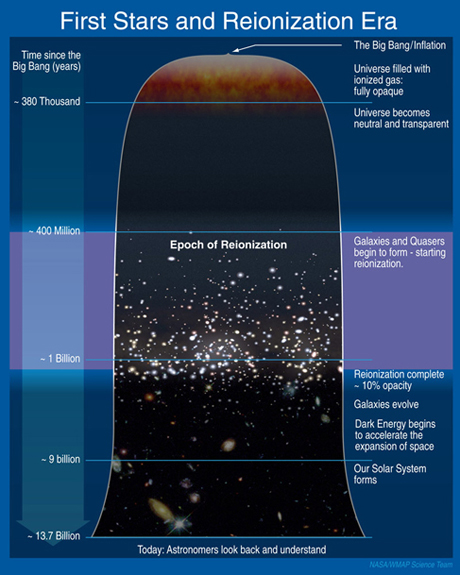 COSMIC DAWN IN A NUTSHELL
Cosmologists have shown that the Universe began in a hot, dense, and featureless state about 13.7 billion years ago. The Universe we observe today, however, is rich with structures such as galaxies, the product of billions of years of expansion, cooling, and gravity.
The era between 380,000 and 100 million years after "the Big Bang" is called the cosmic dark ages; a time before the first stars formed to light up the Universe. Between 100 million to 1 billion years after the Big Bang, primordial gas collapsed gravitationally into galaxies, where it cooled and compressed enough to form the first stars, ending the dark ages. Light from these first galaxies ripped apart ("re-ionized") and heated hydrogen atoms in the inter-galactic gas that filled the Universe. This "feedback" impacted future galaxy and star formation and left observable imprints which astronomers are just now beginning to detect. Understanding this epoch of reionization and first light is a key goal in Cosmology and Astrophysics.