UT System Chancellor Bill McRaven Visits McDonald Observatory
17 July 2015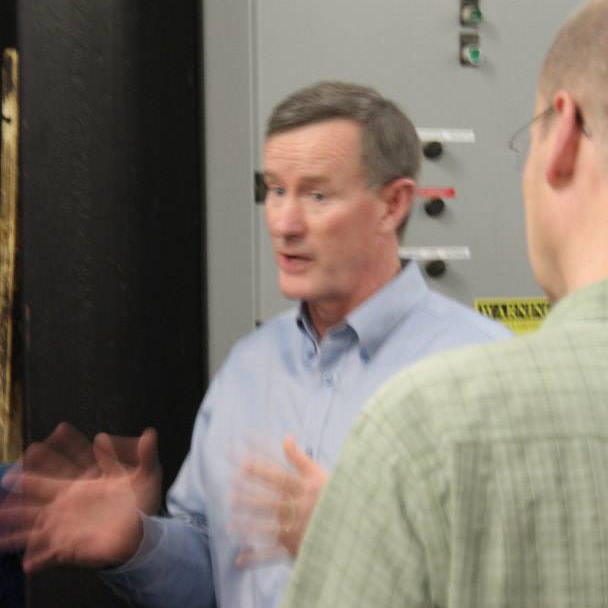 Retired four-star Navy Admiral and UT System Chancellor Bill McRaven visited McDonald Observatory in July to speak to the semiannual meeting of The University of Texas at Austin McDonald Observatory and Department of Astronomy Board of Visitors. The Chancellor participated in events throughout the weekend asking many questions, toured the Harlan J. Smith and Hobby-Eberly Telescopes, and became acquainted with astronomers, staff, and visitors. He expressed strong and enthusiastic support for McDonald Observatory, the upcoming Hobby-Eberly Telescope Dark Energy Experiment, and the Giant Magellan Telescope. He was especially excited about the possibility of new discoveries. "Only a handful of American universities will have access to the next-generation observational facilities that are going to drive astronomical discovery of the next several decades. I'm proud to see UT Austin seizing the opportunity to demonstrate that our scientists, students and researchers belong among the elite, not just of Texas or the United States, but of the world," he wrote of his visit.
In remarks to the Board, the Chancellor described how once preposterous ideas, like night vision goggles and hand held GPS, became tangible capabilities that transformed his day to day work in the armed services. Those capabilities changed everything, he said, whether or not they were the original aim of the research that produced them. The discoveries possible with the Giant Magellan Telescope will also change everything, he said.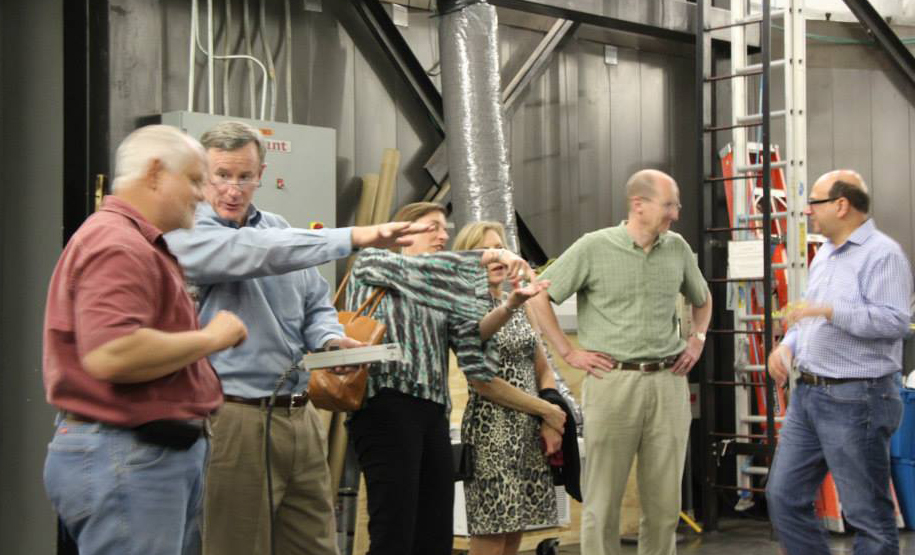 Astronomy staff were also inspired by the Chancellor's visit. "I was tremendously impressed with the Chancellor's focus and his commitment to UT," writes observatory Director Taft Armandroff. "The level of engagement in McDonald/Astronomy and the caliber of questions he asked were inspiring. He clearly has a profound vision for UT and an interest in astronomy."
The Chancellor began his tenure in January following a distinguished military career, as a Navy Seal, an Admiral serving two Presidents, and ninth commander of the United States Special Operations Command, responsible for tens of thousands of personnel globally, and a budget of ten billion dollars. A UT alumnus, he has already made an impact since joining Texas. With other Chancellors, he helped advocate for funding from the tuition revenue bond, receiving $3.1 billion for capital improvements on campuses across Texas. He also helped in securing $147 million for the Texas Research Universities Fund for UT Austin and Texas A&M.
"While we all experience the hard, tangible benefits of scientific research every day, I'm glad to work for an institution that also celebrates the less tangible benefits of pure, curiosity-driven research. Research that dares to ask the big questions: What's out there? Where did we come from? Thanks to our friends at McDonald Observatory, we may have answers to some of those questions very soon!"
-- UT System Chancellor Bill McRaven, on returning from a visit to West Texas as a guest of Dean Linda Hicke and observatory Director Taft Armandroff.
His advocacy for research follows a lifelong interest. "When I was growing up, I wanted to be a marine biologist, or I wanted to be an astronaut," he related in his remarks. He became a Navy Seal, and was inspired by a seal program to capture returning orbital capsules on splashdown. Fascinated by the common technical requirements of undersea and space exploration, he noted several seals that used their skills to become mission specialists aboard NASA shuttles.
Chancellor McRaven closed his talk pledging enthusiastic support for the Board of Visitors, the work of the observatory, and his intention to return frequently to West Texas.
Please also read the account of the visit posted on the Chancellor's blog: Star Gazing.