Syllabus
Download & Print [pdf]
Radiative Processes & Radiative Transfer
INSTRUCTORS:
Drs. Neal Evans, RLM 15.312A, 471-4396 and Milos Milosavljevic, RLM 17.220, 471-3397
OFFICE HOURS:
Evans: Mondays 2—3 or by appointment; Milosavljevic: by appointment
REQUIRED BOOKS:
Radiative Processes in Astrophysics by George B. Rybicki and Alan P. Lightman (Wiley; ANY EDITION)
GRADES:
There will be 3 exams, homework sets, and a final exam. Grades will be based on 3 exam scores (40%), homework (30%), class participation (10%), and the final exam (20%). The final exam will consist of picking a paper from an approved list, delivering a presentation about it, and answering questions from classmates and instructors.
TOPICS:
The course considers the interaction of radiation and matter and the transport of radiation in the astrophysical context. We will use Rybicki and Lightman as the basic text, but it will be supplemented by notes from other sources, which will be made available. We will consider both continuum and line (atoms, molecules, solid state) interactions. The class will include both theoretical and observational aspects.
OTHER MATTERS:
We expect students to do all the reading before class, and to come with questions. Some classes will be conducted by addressing questions. If students don't ask questions, the instructors will ask them questions. The class participation part of the grade will depend on the questions. If you need special arrangements for religious holidays, or because of disabilities, notify the professors well in advance.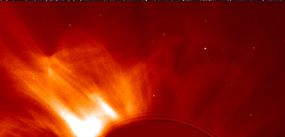 [SOHO]
Professor
RLM 15.312A · (512) 471-4396 · email
Office Hours
TBA
---
Professor
RLM 17.220 · (763) 772-3485 · email
Office Hours
By appt