The symposium The Inner Regions of Quasars will be held Friday, September 12th through Sunday, September 14th, 2014 on the 15th floor of Robert Lee Moore Hall (RLM) [map] on the campus of The University of Texas at Austin, to celebrate the work and career of Dr. Beverley Wills.
Broad emission lines are one of the defining criteria of all AGNs, over some 8 orders of magnitude in source luminosity. The lines orginate in the Broad Line Region (BLR) in gas that is being photoionized by the central source and moves at velocities from 1,000 to nearly 30,000 km/s. While photoionization models are quite successful in explaining much of the observed properties of AGN emission lines, major problems still remain: What is the origin of the BLR gas? What is its fate? What sets how the main gas properties, like velocity, density and location, scale with luminosity? Given the important new developments in space and ground-based spectroscopy, the time is ripe to try and answer some of these questions.
Bev Wills has been one of the pioneers in observing and interpreting the broad emission lines in all types of AGNs. Her enthusiasm and dedication inspired a generation of researchers in the field. This meeting celebrates Bev's contributions (many with Derek Wills) by presenting new results and by reviewing what has been achieved recently in this area of research.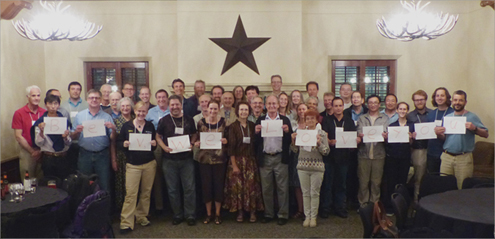 If you have questions or information about the meeting, please direct them to the Local Organizing Committee at quasars@astro.as.utexas.edu.
Travel & Lodging
All participants are encouraged to make hotel reservations as soon as possible, as demand for lodging can be unpredictable. See Hotels for recommendations and reserved room blocks.
Registration
Please complete Registration by June 1. Registration is free. Cost of elective banquet is $45/person, payable in cash, at time of conference check-in.
Austin, Texas
Austin, Texas is one of the fastest growing cities in the United States, a vibrant home to music, film, and high-technology communities, a state capitol, and The University of Texas at Austin. See Austin Area for local information.
Department of Astronomy & McDonald Observatory
The Astronomy Program at The University of Texas at Austin participates in all areas of modern Astronomy, from instrumentation and device development to theoretical and computational cosmology, as well as hosting 60,000 public visitors annually at its West Texas observatory facilities.
No Registration Fee
Saturday Banquet at:
Texas Union
Eastwoods Room
UNB 2.102 (map)
SOC
Ari Laor (Chair)
Michael S. Brotherton
Hagai Netzer
Michel Breger
LOC
Michel Breger (Chair)
Joel Green
Miquela Stein
Robert Wilson
Kelly Quinney
Jim Umbarger