Protoplanetary Disk [STScI]
Science Seat: How to make a planet
By Nana Karikari-apau, CNN
8 March 2013
Sarah Dodson-Robinson is an assistant professor in the astronomy department at the University of Texas at Austin. She is a member of the American Astronomical Society and recently won the organization's Annie Jump Cannon Award for her work exploring how planets form. Dodson-Robinson says she enjoys discovering new things and coming up with new pieces of knowledge, no matter how small. She describes it as a "wonderful feeling." CNN Light Years recently chatted with Dodson-Robinson about her research. Here is an edited transcript:
CNN: What is the main goal of your research program?
Sarah Dodson-Robinson: My main goal is to answer the question, "How do planets form?" I'm interested in almost any type of planet, but my work so far is best known for its focus on supergiant planets, which are much more massive than Jupiter. I also study stars that host planets...
Webb Space Telescope Model
Three-day SXSW Interactive "Space Exploration" Event Features Full Size James Webb Telescope Model, Star Parties, Talks by UT Astronomers, March 8-10
5 March 2013
University of Texas astronomers Karl Gebhardt, Sarah Tuttle and Steven Finkelstein will speak at a gala three-day South by Southwest Interactive "Space Exploration" event Friday, Saturday and Sunday, March 8-10, at Auditorium Shores, Austin. On outdoor exhibit, will be a full-scale model of the James Webb Space Telescope (JWST) the size of a tennis court and 4 stories high. The JWST is NASA's successor to the Hubble Space Telescope and will be 100 times more powerful. The three-day schedule includes a talk from Nobel Prize-winning astronomer John Mather and scientists from MIT and elsewhere; nightly star parties hosted by local astronomy clubs; and an attempt at breaking the Guinness Book record for the world's largest astronomy lesson. All events and exhibits are free and accessible without a festival pass. The event is sponsored by JWST builder Northrup Grumman.

Dr. Volker Bromm
21st Annual Great Lecture in Astronomy: The First Stars and Galaxies
29 January 2013
Dr. Volker Bromm will deliver the 21st Annual Great Lecture in Astronomy, "The First Stars and Galaxies", February 9, 1-2 PM, at the Avaya Auditorium [map], ACES 2.302. The lecture is free and open to the public. The first generation of stars and galaxies were not the same as what is studied with current telescopes, but transformed the universe from a simple state to one of increasing complexity. Dr. Bromm models this cosmological era in large-scale simulations, on supercomputers at the Texas Advanced Computer Center. The James Webb and Giant Magellan Telescopes may soon offer the power to image this early time directly. The Great Lecture is sponsored by the Department of Astronomy and McDonald Observatory Board of Visitors.

McDonald Observatory Director
David Lambert [Eric Shelton]
Black holes and dark matter: Abilene students learn about topics in astronomy
Abilene Reporter News
25 January 2013
Karl Gebhardt doesn't propose to make Texas the center of the universe, but rather the center of the study of the universe. Gebhardt and David Lambert, astronomers at the University of Texas at Austin, split chores Friday in talking to hundreds of Abilene high school and university students about November's announcement of the discovery of the largest black hole known to exist. The discovery was made with the Hobby-Eberly Telescope at the University of Texas McDonald Observatory in the Davis Mountains of far southwest Texas. Gebhardt and Lambert addressed students of Abilene's Academy of Technology, Engineering, Math & Science, Cooper High School, Abilene High School, HSU, McMurry University and Abilene Christian University.
Observatory director to retire
The Daily Texan
He first developed an interest in astronomy as a high school junior in Kent, England. He joined the UT Faculty in 1969. Now, after 10 years as director of UT's McDonald Observatory, David Lambert is planning to retire. "When I step down, I shall be 75, and that sounds old enough to let someone younger have a shot," Lambert said. "It will be nice to get fresh blood into the system." Lambert, who is also an astronomy professor, will step down by August 2014.
McDonald Observatory Officer Receives Prestigious Law Enforcement Award
Police officer Joe Mike Pasqua has been honored with the Texas Law Enforcement Achievement Award for Public Service, a state wide honor from the Texas Commission on Law Enforcement Officer Standards and Education.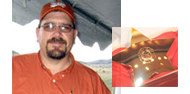 Joe Mike was the August 2012 UT-system officer of the month.