ASTRONOMY 307
INTRODUCTORY ASTRONOMY
| | |
| --- | --- |
| Section/Semester: | Unique No. 48495, Spring 2009 |
| Class Meetings: | Tues & Thurs 9:30-10:45 AM, RLM 15.216B |
| Instructor: | Prof. Harriet Dinerstein |
| Contact Info: | (512) 471-3449, harriet@astro.as.utexas.edu |
| Office Hours: | RLM 16.324, M 1:30-2:30, W 10:30-11:30, or by appt |
| Teaching Assistant: | Athena Stacy, Astronomy Graduate Student |
| Help Sessions: | To be announced |
Main Course Website:
http://www.as.utexas.edu/astronomy/education/spring09/dinerstein/307.html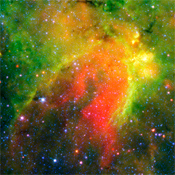 COURSE DESCRIPTION: Astronomy 307 is a one-semester introductory survey course on modern astronomy, for science and engineering majors. We will assume that you are comfortable with solving problems and using math as a tool to help you master the course material. If you don't feel that this description applies to you, you should consider switching to Astronomy 301, the introductory course designed for non-science majors. There are several sections of Ast 301 offered each semester.
Astronomy is a very broad subject to cover in a single semester, so we will move through the material at a rather rapid pace. Our goal is to provide a comprehensive overview of the Universe, from our Solar System to the largest scales. It's possible that we may not be able to cover your favorite topic in sufficient depth to fully satisfy your curiosity; in that case, you may wish to take one of the Astronomy Department's follow-up courses on a variety of topics (Ast 309 series), in a future semester.
TEXTBOOK: We will use the 8th edition of the textbook "Universe" by Roger Freedman and William Kaufmann. It uses a bit more math than most introductory textbooks, but also provides you with guidance and hints for approaching numerical problems, including worked examples. You are strongly encouraged to buy this (the latest) edition of the book, since older editions may not contain the same material and problems. (If you do buy an earlier edition, make sure that it isn't an abridged or "split" version; those editions will be missing one of the major units.) The text is also available as an eBook, which you can purchase separately from the publisher's website. However, I do recommend that you purchase the bound (paperback) book, especially since there are plenty of used copies on the market, this edition having been out for about 1.5 years. There are a number of other resources available on the book's website, http://bcs.whfreeman.com/universe8e/default.asp, including figures, animations, practice problems and quizzes, and so on.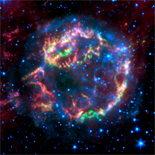 COURSE PHILOSOPHY: Some students sign up for a class with the idea that they can pass the course (and even earn a good grade) by "ace-ing" the exams, without having to attend regularly or keeping up with the assignments. Ast 307 is not a class where you will be successful with this approach. A significant portion of your grade is based on activities in class that help direct the pace and content of the lectures, and you cannot make up for missing this work by taking exams.
GRADING BASIS: Course grades are based on individual performance, rather than graded on a curve; there are no quotas on the number of A's, etc. You will be able to access your grades via eGradebook. Semester grades will be computed as follows:
Hour Exams: 60%. There will be 3 in-class hour exams during the semester. The format will be "mixed," a combination of fill-ins or multiple choice, short essays, and numerical problems. Bring your calculator; we will provide paper and a list of equations. As an alternative to taking the last hour exam, you may elect to take a comprehensive final exam that covers the same material as Exam 3, in addition to earlier material.
*** Important: I do not give make-ups for missed hour exams, period. If you miss an exam for any reason, even a valid one, you must take the comprehensive final exam, which serves as an all-purpose make-up exam. Alternatively, you may take the final exam in addition to the hour exams, in which case your grade will be based on the best 3 out of the 4 exams. Again: the final exam will cover the whole semester.
Hour Exams: The dates of the first two hour exams are not yet set, but are likely to be mid to late February and towards the end of March (after Spring Break) respectively. Exam 3 will be on the last class day, May 7.
Optional Comprehensive Final Exam: Saturday, May 16, 2 – 5 PM

Graded Homeworks: 20%. There will be roughly 8 graded problem sets during the semester. We will drop the lowest score to compute the "homework total." Generally you will have a week to complete the homework. While you may discuss homework in a general way with classmates, and are encouraged to seek help from the T.A. or the instructor if you need it, the work that you turn in must be your own (see below).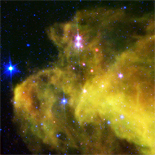 Lateness Policy: You are expected to turn in homework on time, which means at the beginning of class on the due date. If it is in the hands of the T.A. within the next 24 hours, it will be graded for reduced credit. Homeworks that are more than 24 hours late will not be accepted for grading (this can become the "dropped" homework grade).
Participation Credits: 20%. The remaining 20% of the grade will be based on various activities, mostly in class but also some out-of-class events. The in-class activities may include pop quizzes, feedback on index cards, background surveys, and small group projects. External activities include Star Parties and special lectures (see the section on "Special Events" below). Some activities may receive varying amounts of credit depending on your answers, but this credit is cumulative rather than averaged scores. Furthermore, there will be more than 20 credits (25 or more) available to be earned during the semester, although once you reach 20 points, you'll be "maxed out." This portion of your grade is under your control; it's up to you to earn it!
APPROXIMATE SCHEDULE OF TOPICS AND READINGS:
| | | |
| --- | --- | --- |
| Section I: Observing the Sky | ch. 1-6 | Jan. 20-Feb. 19 |
| Section II: Our Solar System | ch. 7-15 (excerpts) | Feb. 24-Mar. 12 |
| Section III: The Sun and Stars | ch. 16-22 | Mar. 24-Apr. 14 |
| Section IV: Galaxies, Cosmology, etc. | ch. 23-27 | Apr. 16-May 7 |
IMPORTANT DATES (THESE APPLY TO ALL SPRING 2009 CLASSES):
First class meeting: Tues., Jan. 20

Last day of the official add/drop period: Fri., Jan. 23

12th Class Day (Last day to drop with a possible refund): Wed., Feb. 4

Last day to drop except for non-academic reasons, or to change from a letter grade to a pass/fail grading basis: Mon., Mar. 30 (I will grant a Q-drop up until this date, if you first get approval from your dean's office.)

INSTRUCTOR POLICIES AND EXPECTATIONS: In order to get your money's worth and do well in this course, it is important that you attend regularly and keep up with the reading and coursework. We will be moving at a fairly rapid pace, and will do our best to keep the class website current, but it is your responsibility to stay informed. Do "bookmark" the course website; you will find a great deal of useful, frequently updated materials there, including pdf files for the lectures, feedback on exams and on some homeworks, updates on the recommended readings and some practice problems (to supplement the graded homeworks), and an archive of all old class announcements.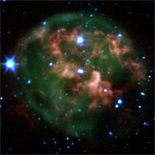 Classroom Behavior: I expect you to be attentive in class and to be respectful of your instructor and classmates. The classroom is not the place for non-class-related social interactions or cell phone conversations. Please turn off the volume on your cell phone before the beginning of class. First time violators will be merely grimaced at, but subsequent cell-phone disruptions will adversely affect your participation grade. In addition, although some instructors allow students to use laptops in class, it will not be allowed in Ast 307, as it is distracting to the instructor and fellow students. (There is also an issue of crowding, since RLM 15.216B is a fairly small room for this class.)
Scholastic Integrity/Academic Dishonesty: The University of Texas at Austin has recently adopted an honor code, but the code does not spell out expectations for student conduct in any detail. More detail and other useful information can be found on the web pages of the Dean of Students, at the link for Student Judicial Services: http://deanofstudents.utexas.edu/sjs/index.php; see especially the links called "The Standard of Academic Integrity" and "Scholastic Dishonesty." The College of Natural Sciences takes these rules seriously. We will not tolerate copying or cheating on exams, homeworks, or other classwork. If we find duplicated work or evidence for cheating, neither student will receive credit. We may also impose more severe academic penalties, depending on the circumstances, not excluding an F for the course, or a report of academic dishonesty to the Dean of Students.
GETTING HELP: The Instructor and T.A. will hold office hours each week. Please try to bring your questions to us at these announced times, if possible, since we both have other responsibilities in addition to our Ast 307 duties, and may not necessarily be available at other times of the week. However, if you cannot attend any of our regular office hours, please contact us and we will try to find an alternate appointment time. The T.A. will hold help sessions shortly before homework is due, and before each exam. You can also contact us with questions by email. However, if you have a question, please check the class website first, to see whether the answer is already posted. We will be posting frequent announcements, updates, and other information. (I do not encourage students to set up or participate in chat groups to discuss homework. Doing this has the potential of spreading misinformation; and giving answers to problems to other students is considered scholastic dishonesty.)
STUDENTS WITH DISABILITIES: Upon request, the University of Texas at Austin provides appropriate academic adjustments for qualified students with disabilities. Contact the Office of the Dean of Students at 471-6259, or (TTY) 471-4641, or via email to ssd@uts.cc.utexas.edu or see http://deanofstudents.utexas.edu/ssd/.
SPECIAL EVENTS: The Astronomy Department offers evening Star Parties (featuring viewing through small telescopes) on campus. Star Parties will take place on specific Wednesdays, Fridays, and Saturdays; details will be announced and posted at http://outreach.as.utexas.edu/public/viewing.html. As you may have noted above, it is possible to earn some participation credit by attending one of these star parties. In order to earn this credit you must get a signed slip from the person presiding over the star party. Warning to the naïve: Star parties are held only when the weather permits! They are cancelled when it's too cloudy to see anything (which happens a lot in the spring), so I advise against procrastinating and assuming that you can wait until the end of the semester. If it's cloudy then, you will be disappointed – and out of luck!
We anticipate that there will be one or more special "public" talks relevant to Ast 307 during the semester. These will be free lectures held on campus in the afternoon or evening. (Make a note: one will take place on March 11, and others are likely to happen in April.) If you attend one of these talks, in order to earn participation credit you will be required to submit a brief write-up summarizing what you heard and learned, in your own words (I am very intolerant of students cribbing notes from another student, and I can usually tell if you do this!) This must be submitted as hard copy (not emailed to me), and your write-up will be evaluated to determine how many points will be earned.
DEPARTMENTAL INFORMATION: If issues arise during the semester that cannot be resolved with the instructor or TA, you may contact the Chair of the Undergraduate Studies Committee, Prof. Gregory Shields (471-1402, shields@astro.as.utexas.edu), or Dept. Chairman, Prof. Neal Evans (471-3302, chairman@astro.as.utexas.edu). More information can also be found in the "Memo to Undergraduate Astronomy Students," which is posted at http://outreach.as.utexas.edu/students/memo.html.