Astronomy Undergraduate Selected as Rhodes Scholar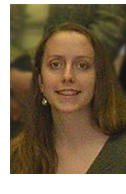 Astronomy undergraduate Sarah Miller has been selected as one of 32 Rhodes Scholars from the United States for 2008. The winners were chosen from 764 applicants. The scholarship selects outstanding students, on the basis of character, academic achievement and leadership potential, to study at Oxford University for up to three years. Previous Rhodes Scholars include Edwin Hubble, who studied law during his time at Oxford, U.S. Supreme Court Justice David Souter, and singer/songwriter Kris Kristofferson.

Sarah is a Dean's Scholar pursuing Honors degrees in Astronomy and Physics. From 2004 to 2006, she worked on a research project on black holes with Prof. Richard Matzner at the UT Center for Relativity. From 2006 to date, she has been exploring how galaxies have evolved over the past eight billion years using Hubble Space Telescope data from the GEMS survey, with Dr. Shardha Jogee. In particular, she and fellow astronomy major Kyle Penner have helped to investigate how the frequency of violent interactions and mergers between galaxies change with time, and what is the impact of such events on the cosmic star formation history. She is a co-author on two papers being submitted to the Astrophysical Journal.

Sarah was the recipient of the 2007 Board of Visitors scholarship, awarded by the Astronomy Department for excellent performance. She also won an award for best oral presentation at the 2007 College of Natural Sciences Undergraduate Research Forum.

Sarah has participated in outreach efforts organized by the the department of Astronomy, the Board of Visitors, and the Dean Scholar's program at UT. She has helped to implement the Galaxy Cosmic Explorer Tool (GCET), a web-based discovery learning tool, sponsored by NASA, NSF, and UT. GCET will be used by students to surf the cosmos and explore large galaxy surveys conducted with the Hubble Space telescope. She created new divisions in the Dean's Scholars (DS) program: DS Music, DS Art, and the DS International Exchange Program. She chaired the Booth Committee for DS science outreach to the Austin community, and directed the 2007 DS Organ Donor Drive. She was elected to the DS council in 2005 and as DS President in 2007. Sarah has worked hard to attract students, particularly young women, into the physical sciences.

In parallel with her academic work, Sarah has strived to bridge the gap between the sciences, the arts, and the broader community. Since 2003, she has organized lectures to improve the dialog between theology and science, helped to rehabilitate women in U.S. prisons, and produced a professionally recorded rock album. Asked about becoming a Rhodes Scholar, Sarah said, "I'm still in shock that I am one of the lucky few. I owe so much to UT and my wonderful mentors and friends that I have met here."