This year's conference is October 9-11, 2011
Photos of Bash Symposium 2009
The University of Texas Department of Astronomy and McDonald Observatory will be hosting the third biennial Frank N. Bash Symposium on the topic of New Horizons in Astronomy, October 18-20, 2009. This meeting will bring together young researchers at the cutting edge of astronomy and astrophysics, to promote the exchange of research ideas and visions for the future of astronomy. The symposium will focus on invited review talks, and will include discussions and contributed poster papers from postdocs and graduate students.
The Frank N. Bash Symposium 2009 is made possible by the generous contributions of The University of Texas at Austin McDonald Observatory and Department of Astronomy Board of Visitors.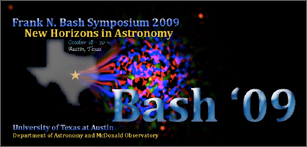 Registration deadline: October 2.
Proceedings will be published by the Astronomical Society of the Pacific
Contact
If you have questions about Bash Symposium 2009, please contact us at: bashfest@astro.as.utexas.edu.
Scientific Organizing Committee
Remco van den Bosch, chair
Yi Mao
Timur Sahin
Peter Yoachim
Lei Hao
Tom Barnes
Local Organizing Committee
Peter Yoachim, chair
Timur Sahin
Laura Stanford
Remco van den Bosch
Amanda Bayless (grad)
Jeremy Murphy (grad)
Monica Kidd
Proceedings
Laura Stanford, chair
Lei Hao
Yi Mao
Joel Green