McDonald Library
Library Catalog
Search the UT Libraries Catalog to find materials at Péridier and McDonald Libraries
[Click here (pdf) for a short tutorial on searching the catalog.]
New Books
See what books have recently arrived at Peridier
ADS
The NASA Astrophysics Data System
ADS Labs
New Search Interface for ADS Astrophysics Data System
IAU Circulars
IAU Telegrams and Minor Planet Circulars
ASP Conference Series
Online access to ASP Conference Series
McDonald users (distance learners), request a book from UT campus or another institution
Online Journals & Article Databases
Common Problems with Off Campus Access to Databases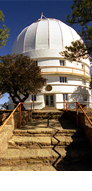 About McDonald Library
The McDonald Observatory Library is located in the Otto Struve dome, home of the 82-inch telescope. The library serves the staff of the observatory, visiting astronomers and members of the Department of Astronomy. A variety of print and online resources in astronomy and related fields are available through the library.
You may find that you need library materials that are not available at the McDonald Observatory Library. You may contact Elise Nacca at the Péridier Library or Molly White in the Physics-Math-Astronomy Library for help obtaining materials on the Austin campus or through InterLibrary Loan.
All electronic journals and publications purchased by The University of Texas at Austin are available to the staff and students of the Department of Astronomy and the McDonald Observatory. You will need your UT EID to access these materials when you are offsite. Please contact one of the people below if you encounter any difficulty with your EID or online access.