---
Undergraduate Program in the News
2016 | 2015 | 2014 | 2013 | 2012 | 2011 | 2010 | 2009 | 2008 | 2007 | 2006 | 2005
---
2005
College of Natural Sciences Recognizes Three Astronomy Undergraduates with Research Awards
2 December 2005
Three Department of Astronomy Undergraduates have applied and won awards from the College of Natural Sciences Undergraduate Research Program. Liz Hill-Aiello, Ashley Davis and Allen Kyle Lake each have received funding to support projects on different aspects of the evolution of galaxies and black holes. They will work under the direction of Professors Shardha Jogee and Greg Shields. Their projects involve radio, optical, and X-ray data from ground-base telescopes and the space-based Hubble Space Telescope.
New Awards Available to Undergraduate Astronomy Students
1 November 2005
Four new categories of awards have been established for undergraduate majors in Astronomy. The new funds will offset travel expenses for undergraduates conducting research, reward the most outstanding High School applicant to the program, and recognize undergraduate excellence in research. The new opportunities supplement existing awards available to 3rd, 4th and final year students.
Falcon, Irwin, Vicenek, Ramirez Win Astronomy Department Awards for '04-'05
3 June 2005
Three undergraduates and one graduate student have won awards from the Department of Astronomy for 2004-2005. Ross Falcon was awarded the Karl G. Henize Memorial Scholarship, Sierra Irwin the Board of Visitors Undergraduate Scholarship, and Chad Vicenek the Outstanding Senior Award. This year, all three awards carried a $500 prize. In a strong field, Ivan Ramirez won the Board of Visitors Outstanding Second Year Research Defense, for "Oxygen Abundances in Nearby Disk Stars." Advisors to Ramirez are Carlos Allende Prieto and David Lambert.
Astronomy Ceremony Honors Five Undergraduate Degree Recipients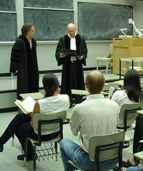 16 May 2005
Five undergraduates were honored Friday, May 5 at a Department of Astronomy graduation ceremony. Two will receive the Bachelor of Arts, and three the Bachelor of Science in Astronomy. The graduates are Christian Iverson Johnson, Karen Leigh Menezes, Diana Elizabeth Smith, Chad Joseph Vicenik and Jocelly Marie Guie Wong. Astronomy faculty and students comprised a string quartet for the program, which included a recitation in Latin, and remarks from Chair Don Winget, Undergraduate Advisor Karl Gebhardt, Undergraduate Studies Chair Greg Shields and Observatory Director David Lambert.