James Diekmann
James Diekmann Wins Outstanding Senior Award
June 2015
James Diekmann has been awarded this year's Department of Astronomy Outstanding Senior award. This award is given to a graduating senior for outstanding overall performance (grades, research, service to department and community). He has spent the last two years working with Assistant Professor Steven Finkelstein on a difficult research project to identify the brightest galaxies at a redshift of eight, and also played a crucial role in a recently accepted proposal to image fields thought to contain candidates for galaxies at a redshift of nine with the Spitzer Telescope. more..
Astronomy Undergraduate Rebecca Larson Wins Inaugural Student Veteran Academic Leadership Award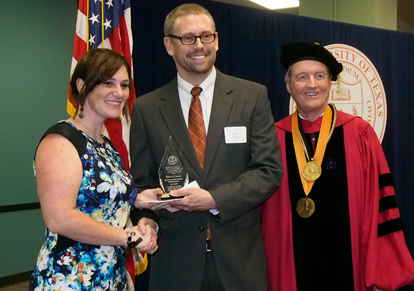 Rebecca Larson receives award from President Bill Powers (right)
June 2015
Rebecca Larson, a senior Astronomy major and former Arabic Linguist for the United States Air Force, was chosen to receive the 1st Annual Undergraduate Student Veteran Academic Leadership Award. She was honored in a ceremony on May 23, 2015, where former UT President and Army veteran, Bill Powers, presented her with her award. more..
Sarafina Nance
Sarafina Nance Wins Karl G. Henize Award
June 2015
The Karl G. Henize Endowed Scholarship is awarded to a junior or senior who intends to pursue a graduate career in Astronomy. Sarafina Nance has been selected as this year's recipient. Sarafina is a double major in physics and astronomy and a member of the prestigious Dean's Scholars Program at UT. She is active in the Astronomy Student's Association and has participated in our Undergraduate Research Symposium. Professor Craig Wheeler writes "I have known Sarafina for about three years and am quite impressed with her verve, energy and passion to do astronomy." more..
Board of Visitors (BoV) Undergraduate Scholarship Awarded to Taylor Hoyt
Taylor Hoyt
June 2015
Taylor Hoyt submitted this year's winning essay for the Board of Visitors (BoV) Undergraduate Scholarship. This award is given annually to an astronomy student for excellent overall performance. Taylor has been very active in the department throughout his career at UT. While in the White Dwarfs Freshman Research Initiative (FRI), under the supervision of Don Winget and Mike Montgomery, Taylor learned to quickly navigate the smaller obstacles that often spring up while doing research and how to direct his energy to the more important part – the science. He has become a mentor to aspiring young(er) scientists and continues to better understand the importance of collaboration to reach goals. more..
Rebecca Larson
Rebecca Larson Wins the Ralph Cutler Greene Award
June 2015
Rebecca Larson is this year's recipient of the Ralph Cutler Greene Award. Excellent research performance, as well as service to the department, University and community are considered in this competition. Rebecca's first research project, in collaboration with Professor Neal Evans and Dr. Joel Green, where she used Herschel data to confirm prediction for signatures of decay of turbulence through low-speed shocks in molecular clouds has netted her a first-author paper in the Astrophysical Journal. more..
Taylor Hoyt
Taylor Hoyt Wins Eva Stevenson Woods Scholarship
May 2015
Among the University's most prestigious, the Eva Stevenson Woods Unrestricted Endowed Presidential Scholarship has been awarded to third year astronomy and physics major Taylor Hoyt. Taylor has been working with Don Winget and Mike Montgomery in the White Dwarf Group. This summer he will work in Notre Dame's REU program with Dr. Peter Garnavich, analyzing spectra of cataclysmic variables, using Large Binocular Telescope Data. Starting in 2015-16 Taylor serves as Co-President of the Astronomy Students Association (ASA).
Ben Helgeson and Sierra Hickman
Astronomy Students Install New Camera Mount at McDonald
April 2015
Sierra Hickman and Ben Helgeson, members of the White Dwarf Freshman Research Initiative (FRI) group, mounted the group's Pro-EM camera onto both the MONET and 36" telescopes at McDonald Observatory. In order to fit the camera onto the telescopes, they built a mounting plate that was "universal" and could fit both telescopes. Sierra and Ben combined old mount designs for both telescopes into one functional design. They had the design fabricated, with the help of the department machine shop, and installed the mount and camera onto the telescopes.
James Diekmann Wins 2015 Undergraduate Research Forum Award
April 2015
James Diekmann
Senior student James Diekmann won the CNS Award for Excellence in Astronomy & Astrophysics Research at the recent Undergraduate Research Forum. Under the supervision of Steve Finkelstein, James' research focuses on finding galaxies at high redshift (Z~8). The goal is to constrain the bright end of the luminosity function. By doing this, we can gain insight as to how galaxies have formed since the early universe. Award winners will be honored at the Undergraduate Research Forum Awards Banquet. A full list of awards winners can be found here.