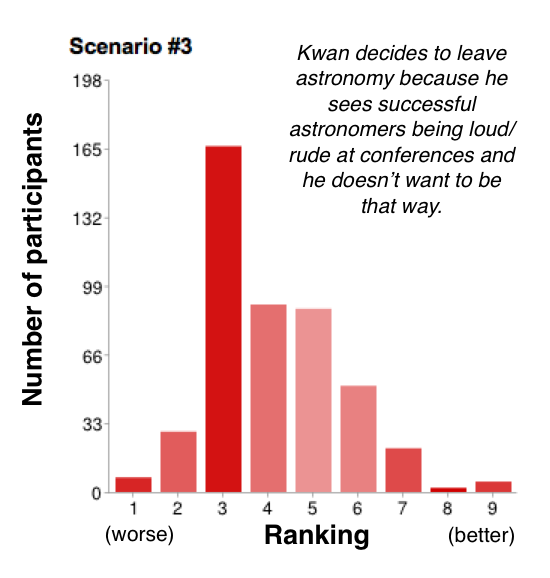 This is undesired, since we would hope people decide to stay or go based on their interest in the science rather than more human limitations. While Kwan's decision is totally his own, and is acceptable, the community might want to recognize that it is loosing good people and should strive to be a more inviting, inclusive environment for multiple personality types, not just those who are naturally assertive and loud.
"Unnecessary loudness should not be what distinguishes a good scientist from a bad one. On the other hand, leaving the field because of a feeling of too hard competition (in a situation when it's arguably not appropriate) doesn't seem to be a solution either. It's a general problem in modern society that who's loudest gets most, not only in science."
"Whether Kwan wants to leave is his decision, but it'd be a shame if he thought those yahoos were representative of the whole field."
"It's good that Kwan is self aware and he should know better that to be loud and vocal does not make a good scientist."
"Kwan's decision to leave the field seems perfectly ethical, and indeed we should encourage people who object to certain aspects of the way their field is practiced to not tacitly give approval by participating in it themselves (though perhaps staying in the field and actively trying to change its practices would be more useful than simply removing oneself from it.) On the other hand, the young "stars," their behavior seems bordering on unacceptable."
"What is the ethical issue here? Someone reaches a judgement about how he thinks other people behave, doesn't like it, and leaves. Good for him? Bad for the field? Maybe it's good that he left."
"Nothing wrong with this up until the bit about 'leaving the field', which seems like a huge overreaction when very few people are as aggressive as described."
"Leaving because of a tough culture is never desirable. Tough-but-fair colleagues are normal & Kwan should have tried to talk with them about what he thought of both the technical points and the way they were presented."
"Because it is the other students being rude, Kwan should bring this up with someone in the department. The fact that Kwan chooses to leave the field is a big problem."
"The young stars' behavior is unacceptable if they are not showing respect for the speaker and they should be told that this type of behavior is unacceptable. However, I can relate to Kwan's feelings of isolation in such an environment."
"Kwan's behavior isn't really unacceptable, it is more very unfortunate or overly passive (he needs a good mentor)."