News from around the BoV and UT Astronomy Program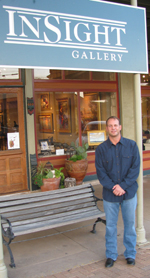 Komatsu wins award for contributions in theoretical physics: Astronomer Eiichiro Komatsu of The University of Texas at Austin has been awarded the 25th annual Nishinomiya-Yukawa Memorial Prize for physics. Komatsu, director of the Texas Cosmology Center at the university, is being honored for his studies of the early universe as a member of NASA's Wilkinson Microwave Anisotropy Probe (WMAP) science team. More information is available in the press release from the McDonald Observatory Web site:
Texas Astronomer Wins Japanese Physics Prize
Immaterial Show at Ballroom Marfa runs through February: BoV members Virginia Lebermann and Fairfax Dorn, founders of Ballroom Marfa, a non-profit cultural arts space in West Texas, have created the gallery's current exhibition, "Immaterial," which will run until February 20, 2011. This exhibition, curated by Dorn, features the work of an impressive roster of twelve international artists including: Barbara Kasten, Rachel Khedoori, Esther Kläs, Liz Larner, Erlea Maneros, Linda Matalon, Julie Mehretu, and Charline von Heyl, and with new commissions by Rosy Keyser, Laleh Khorramian, Heather Rowe, and Erin Shirreff. More information is available at Ballroom Marfa or by e-mailing info@ballroommarfa.org.
Wheels for Meals Grows Support for Food Pantry: BoV members Rick Herrman and Margaret O'Donnell of Jeff Davis County, Texas, organized and rode in the second-annual Wheels for Meals bike ride benefiting the Food Pantry of Jeff Davis County. Twenty-four riders from Midland, Odessa, San Antonio, Houston, Fort Davis, and Alpine took off from the Food Pantry in Fort Davis early on the morning of October 2 and rode 88 miles to and from Valentine. The event raised more than $18,800 for the Food Pantry. Writes Executive Director Tex Harrison on the agency's Web site: "Our Food Pantry helps about 20 percent of the families in Jeff Davis County with supplemental food." More information can be found at Food Pantry of Jeff Davis County.
BoV Member on Social Media: BoV member Bill Pellerin of Houston published "Social Networking for Astronomers," a primer for using Twitter, Facebook, and other social media to communicate about astronomy, on the Astronomical League's website. The story can be found at The Astronomical League - Social Networking for Astronomers
The InSight Gallery in Fredericksburg, owned by BoV member David Plesko and his wife Meredith, opened a new exhibition of work by David Gerhartz and Richard Loffler on November 13. Regularly representing 47 artists, InSight Gallery will soon be moving to a larger space on West Main Street in Fredericksburg. More information:
UT Students Are Part of Team that Finds Planets Around Binary Star System: Astronomers in the U.S., Germany, Chile, and the United Kingdom (including researchers and undergraduate and graduate students at The University of Texas at Austin) made international news for discovering a planetary system consisting of at least two massive Jupiter-like planets orbiting the extremely close binary star system NN Serpentis — a rare finding. The team used observations taken over two decades from many telescopes, including the Hobby-Eberly Telescope and the Harlan J. Smith Telescope at McDonald Observatory. The results are published online in the current edition of the journal "Astronomy & Astrophysics." George Miller, an astronomy and Plan II junior at The University of Texas at Austin, who became involved in the project through UT's Freshman Research Initiative (FRI) in Spring 2009, is recognized for his role in coordinating the consortium. The FRI offers first-year undergraduate students a unique opportunity to engage in cutting-edge research projects. Astronomy professor Don Winget is the project's faculty leader, working with McDonald Observatory research scientist Mike Montgomery (project research educator) and astronomy graduate student JJ Hermes (project teaching assistant). More information:
University of Texas Students, Telescopes Help Discover Planets Around Elderly Binary Star
Supernova 1987A Revealing 'Star Guts': UT Austin Professor J. Craig Wheeler is part of a team, led by Kevin France of the Center for Astrophysics and Space Astronomy at The University of Colorado – Boulder, that used the Hubble Space Telescope to observe Supernova 1987A, the closest exploding star to Earth to be detected since 1604. The team, including astronomers from 17 universities and institutes, analyzed observations of the supernova in optical, ultraviolet and near-infrared light, charting the interplay between the stellar explosion and the famous "String of Pearls," a glowing ring 6 trillion miles in diameter encircling the supernova remnant that has been energized by X-rays. "The new observations allow us to accurately measure the velocity and composition of the ejected 'star guts,' which tell us about the deposition of energy and heavy elements into the host galaxy," France said. More information can be found at:
New Hubble Observations of Supernova 1987a Reveal Composition of 'Star Guts' Pouring Out
November 2, 2010, Election News of BoV Members: Carlos Uresti of San Antonio was reelected to represent Texas Senate District 19. Chuck Hobson of Jacksonville was reelected to the Texas House of Representatives from District 11. Pete Gallego of Alpine was reelected in Texas House of Representatives District 74. Ciro Rodriguez lost to Francisco Canseco in Texas Congressional District 23. Patrick Rose of Dripping Springs lost to Jason Isaac in the race for District 45 of the Texas House of Representatives. Eugenia "Genie" Wright of San Antonio, wife of BoV member Dr. Francis Wright, was elected Judge, County Court at Law No. 7 in Bexar County.