---
Astronomy with IGRINS
IGRINS was designed and built to address a variety of astronomical problems, many remaining after past years of using IR and submillimeter spectroscopy from other facilities to study the dense interstellar medium, star formation, and the early evolution of stars and planetary systems across the mass spectrum. The broad spectral reach and high spectral resolution of IGRINS make it a powerful instrument to attack these problems. We describe here some of the research programs with the instrument.
First, we highlight our research team at UT Austin, and also add that IGRINS research spans beyond our local team. Our group is welcome new ideas and new collaborations, and the IGRINS publication record is reflective of this.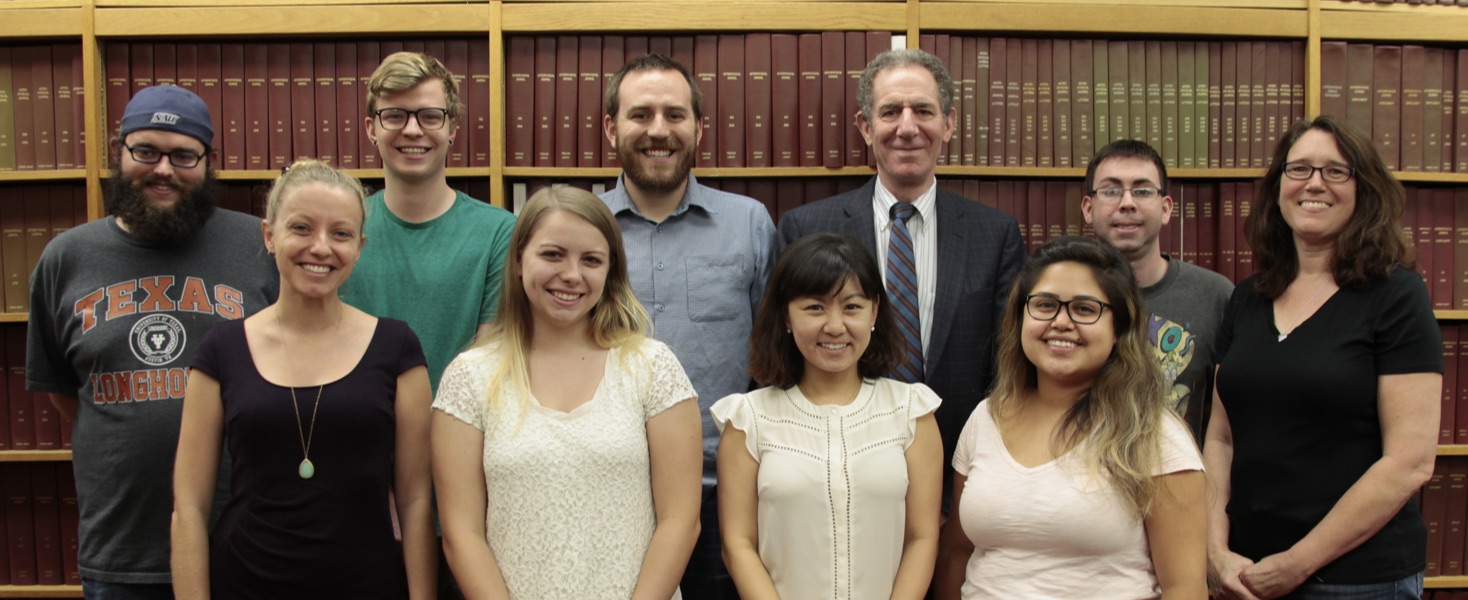 The IGRINS instrumentation and research team. Top row (from left): Jacob McLane (now at University of Wyoming), Ben Kidder, Greg Mace, Dan Jaffe, Kyle Kaplan (now a postdoc at Steward Observatory), Cindy Brooks. Second row: Kim Sokal, Sierra Hickman, Hwihyun Kim (now an Assistant Scientist at Gemini Observatory), Jessica Luna.
IGRINS research team at UT Austin:
Prof. Daniel Jaffe, Vice President of Research
Dan is our bold leader and the IGRINS P.I., responsible for the creation of this revolutionary instrument and for maintaining and expanding its scientific worth.
Dr. Gregory Mace, Research Associate
Greg, previously the IGRINS postdoc, has taken care of IGRINS (along with Dr. Hwihyun Kim) as an instrumentalist and observer since its commissioning. He employs IGRINS to study the substellar boundary and low-mass stars, with a specific interest in all things related to brown dwarfs.
Dr. Kimberly Sokal, Postdoctoral Fellow
Kim is the new IGRINS postdoc. She is using the high spectral resolution of IGRINS spectra and MoogStokes, synthetic spectra including the effects of magnetic fields, to scrutinize the current evolutionary scheme of Young Stellar Objects (YSOs).
Benjamin Kidder, 4th year graduate student
Ben, torn between developing a method to obtain low-resolution excess spectra (veiling) from IGRINS data and exciting emission line detections in YSOs, is working with both to enhance our understanding of disks around YSOs.
Jessica Luna, 3rd year graduate student
Jessica is a NSF Graduate Research Fellow working with Dr. Matteo Brogi (Warwick University) to use IGRINS spectroscopy and advanced observational techniques to observe the atmospheres of non-transiting hot Jupiters.
Science topics addressed with IGRINS:
Young Stellar Objects:
Low-mass pre-main sequence stars are cool and often enshrouded within their dusty natal clouds. At short wavelengths, excess accretion emission and at long wavelengths excess emission from a protoplanetary disk veil the stellar photosphere. In the near-infrared, these excesses are at a minimum and we can characterize the stars by using high-resolution spectroscopy to measure their effective temperatures, gravities, rotation rates, and magnetic field strengths, or alternatively, we characterize the disks themselves.
Science example: "IGRINS Spectroscopy of Class I Sources: IRAS 03445+3242 and IRAS 04239+2436" by Lee et al. 2016: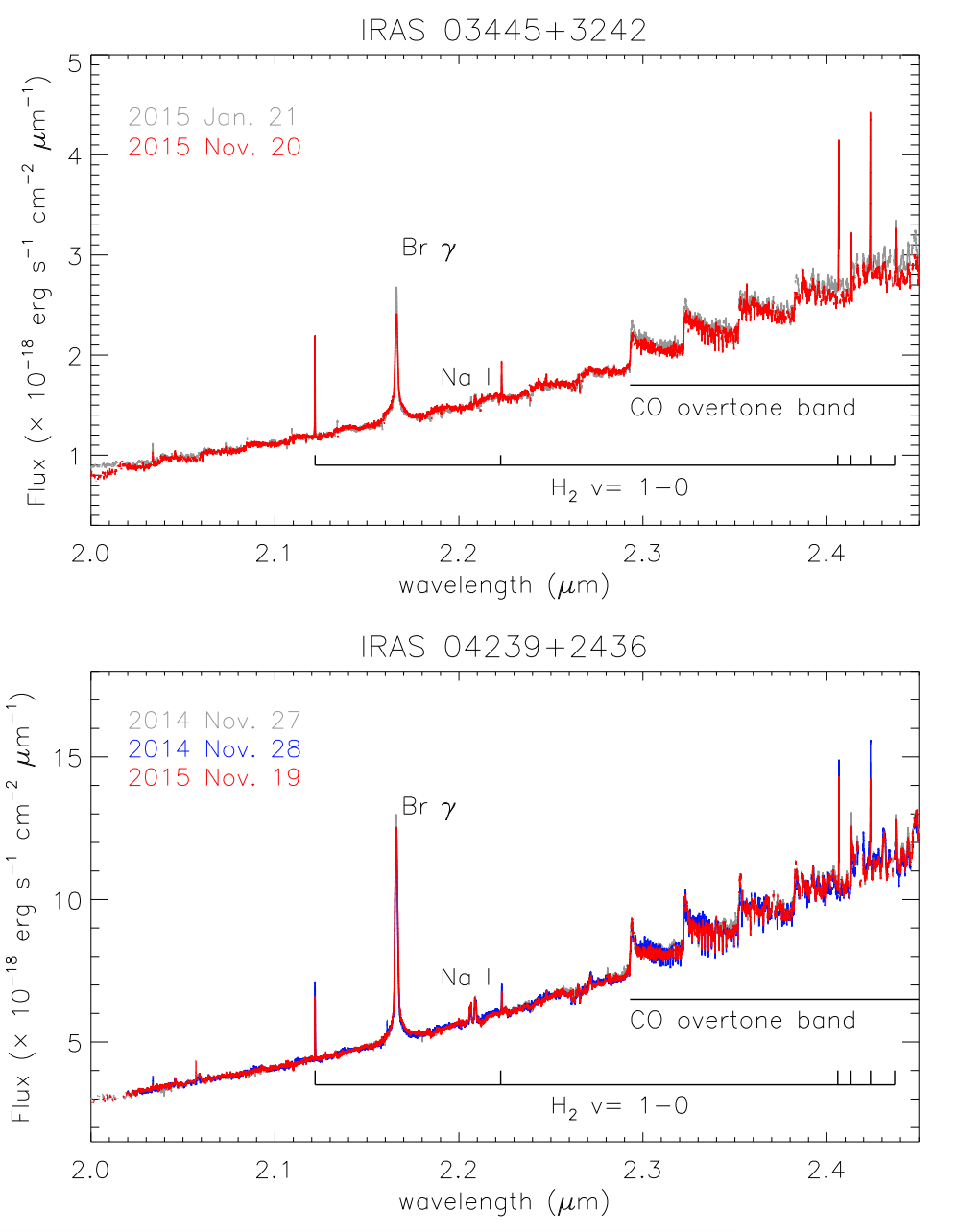 Figure 1: The IGRINS K-band spectra of two Class I sources observed at different epochs, as shown by different colors. The CO features here suggest evidence for Keplerian disks. To quote this work, "This study demonstrates the power of IGRINS as a tool for studies of the sub-AU-scale hot and AU-scale warm protoplanetary disks with its simultaneous coverage of the full H and K bands with high spectral resolution (R = 45,000) allowing many aspects of the sources to be investigated at once" (Lee et al 2016).
Dense Interstellar Medium:
Most of the dense interstellar gas in the Galaxy is in photodissociation zones where UV radiation dominates the energetics and the chemistry. Amongst many lines observable with IGRINS, near-IR molecular hydrogen lines let us probe both these regions and regions where turbulence or organized flows have shocked the molecular gas. IGRINS is able to observe H2 lines from a broad range of excitation states simultaneously and to use both line widths and velocities to help distinguish shocked and photoexcited gas.
Science example: "Discovery of Rubidium, Cadmium, and Germanium Emission Lines in the Near-infrared Spectra of Planetary Nebulae" by Sterling et al. 2016: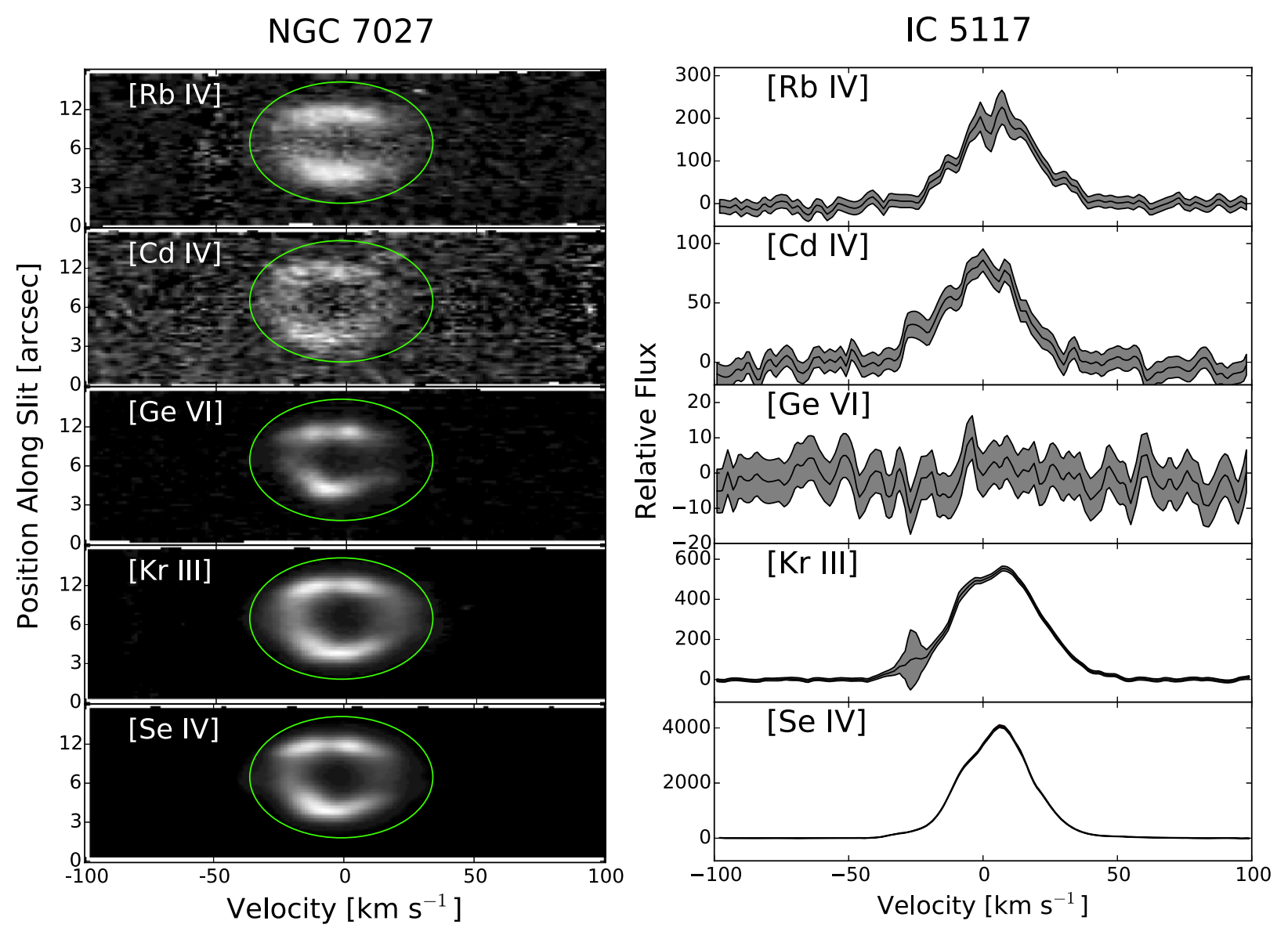 Figure 2: IGRINS observations showing [Rb IV] 1.5973 and [Cd IV] 1.7204 μm emission lines in the planetary nebulae (PNe) NGC 7027 and IC 5117, as well as [Ge VI] 2.1930 μm in NGC 7027. Left - 2D profiles of n-capture element lines detected in NGC 7027, with apertures used for flux extraction. Right panels: 1D profiles of n-capture transitions in IC 5117, including the non-detection of [Ge VI]. Gray shading indicates 1-σ uncertainties. From Sterling et al. 2016.
Planets and Exoplanets:
The high resolution and sensitivity of IGRINS is optimal for obtaining orbital information about exoplanets.
Science example: "Zodiacal Exoplanets in Time (ZEIT). I. A Neptune-sized Planet Orbiting an M4.5 Dwarf in the Hyades Star Cluster" by Mann et al. 2016:
Figure 3: IGRINS observations of a planetary system containing a young super-Neptune, whose discovery was press worthy. RVs from IGRINS are phased to the planet's orbital period (top, 3.485 days) and star's rotation period (bottom, 1.88 days), with repeat measurements shown in gray. From Mann et al. 2016.
Stellar Spectroscopy:
IGRINS has many applications in stellar spectroscopy. For example, the first IGRINS science paper highlighted the exquisite detail available with IGRINS: "High Resolution Optical and NIR Spectra of HBC 722" by Lee et al. 2015:
Figure 4: IGRINS spectrum of the star HBC 722 (black line), a recent FU Orionis object that underwent an accretion burst in 2010, displays neutral metal lines and the CO overtone transitions show a double-peaked profile. For comparison, a K5-type stellar spectrum convolved with a rotational profile (blue; red shows the original) is shown. From Lee et al. 2015.
IGRINS Publications :
Refereed Journals:
SPIE Papers:
Presentations:
Additional Publications: