Why should I choose UT Astronomy?
...direct access to premier research facilities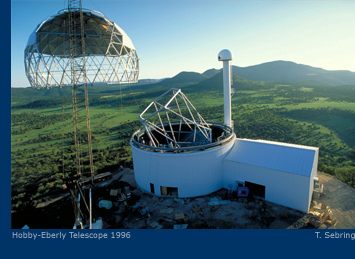 Our graduate students have direct access to all UT telescopes. UT owns a 56% share of the 9.2m Hobby-Eberly Telescope (HET), and since 2005 our graduate students have typically received more than 24% of the HET time allocated to UT.
Our graduate students also have direct access to all UT telescopes at McDonald Observatory, including the 2.7m Harlan J. Smith Telescope, the 2.1m Otto Struve Telescope, and the 0.8m telescope. Between 2004 and 2006, UT graduate students received more than 25% of the total time on these telescopes.
For both the HET and McDonald Observatory telescopes, graduate students regularly apply for time in their own name directly to the internal Telescope Allocation Committee, which looks favorably upon proposals with graduate students as the Principal Investigator (PI).
Our graduate students are also regular users of the Caltech Submillimeter Observatory (CSO) located on Mauna Kea, Hawaii, in which UT owns a share.
Many of our graduate students are also regular users of the supercomputers at the Texas Advanced Computing Center (TACC). The computing facilities include: "lonestar," the Dell Linux Cluster with 5,840 processing cores within 1,460 Dell PowerEdge 1955 compute blades, and "ranger," the Sun Linux Cluster with 62,976 processing cores within 3,936 compute blades. These computing facilities offer unparalleled resources for numerical simulations, data analysis, and scientific visualization. For more information, see http://www.tacc.utexas.edu/

...a large and diverse collection of faculty, researchers, and students
UT has 23 (active) faculty members, 24 research scientists, more than a dozen research associates and postdocs, and 45-50 graduate students. Our research interests encompass a the full range of astronomical scales, from planetary systems to stars, from the ISM to galaxies, and from extra-galactic systems to cosmology. Both theoretical and observational research aspects are well-represented. There are also several active instrumentation groups, building astronomical instruments
Some students arrive in graduate school knowing exactly what type of research they would like to pursue, and other students prefer to try several kinds of research before settling on one. Both groups of students are welcome at UT! It is common for students to change their research interests after arriving at UT. The breadth of research and large number of potential research advisors at UT makes our department the ideal setting for students to find the field of astronomy that truly matches their research interests.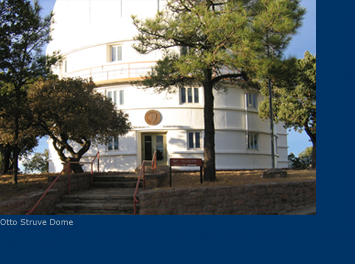 ...an outstanding record of job placement for our Ph.D. graduates
About 60% of our graduates got a postdoctoral or other short-term position and about 30% got permanent tenure-track faculty positions. After 9-12 years, 72% of those graduates achieved a permanent position.
Many of our former students continue as active leaders in their field of research. For example, at least 10 of our Ph.D. graduates since 2001 have been offered the prestigious national "prize" postdoctoral fellowships (Einstein, Hubble, Jansky, NSF, Sagan, Spitzer).

...early entry into research
During the first year, our graduate students investigate potential research advisors, associate with a research group, propose a research project, and begin work! During the spring semester of the second year, students defend their research in a public talk and closed-door session with their research committee; this serves as the Ph.D. qualifying exam - there is no written component! This research project is very often submitted for publication.
By involving students into research immediately, our graduate program enables students to regularly graduate in 5-6 years after entering the program with publication records competitive for the best national and international postdoctoral fellowships.

...lots of financial support to travel to research conferences
Our department is able to provide a substantial amount of financial support for students to attend research conferences, both in the US and internationally. We consider it very important that students attend these conferences to present their research and form collaborations with researchers and students from other institutions. There are several sources of financial support available in addition to the student's primary research advisor. It is common for students to travel to multiple conferences throughout their tenure as graduate students.

How is a graduate student in UT astronomy paid?
Graduate students in the Astronomy department are usually either paid with a Fellowship, a Teaching Assistant (TA) position or a Research Assistant (RA) position. This includes tuition and fees as well as a salary. About half of our TA positions go to first year students. This allows them to get teaching experience if they wish. The number of first year students that receive an RA position varies from year-to-year.
In addition, graduate students are offered the same level of premier health insurance that is offered to all UT staff.

How does this compare to the cost of living in Austin?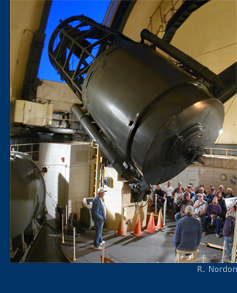 The Astronomy Department pays graduate students roughly $35,000 a year. This includes health insurance premiums for single students and all tuition and fees. The University of Texas estimates that the average graduate student cost of living (books, housing, transportation, etc.) is about $11,000 a year. (http://finaid.utexas.edu/costs/060/060gradcosts.html)
Also, there is no state income tax in Texas.

How does UT compare to other universities?
Among the 2005 top 20 doctorate-granting institutions, The University of Texas at Austin is #2.


Among 2001-2005 U.S. leading doctorate-granting institutions, The University of Texas at Austin is:


#3 in Hispanic Ph.D. recipients
#9 in Native American Ph.D. recipients
#12 in African American Ph.D. recipients
#16 in Asian Ph.D. recipients
This information is taken from the 2005 Survey of Earned Doctorates (SED), an annual census of new doctorate recipients. The complete report can be found at the NORC Education and Career Outcomes of Doctorate Recipients Web site (see below). Every year graduates are surveyed to collect information about their educational history, funding sources and post-graduate plans; this information is gathered and kept in a large database (the Doctorate Record File) in an attempt to track graduates in each field and provide this information for each doctorate-granting institution. (http://www.norc.org/projects/ByFocusArea/Education/Survey+of+Earned+Doctorates.htm)

What's it like to live in Austin?
For information on Housing, Living in Austin, Banking, Employment and Culture:
http://www.utexas.edu/ogs/prospective/austin.html
Austin American-Statesman (daily newspaper):
http://www.statesman.com
The Austin Chronicle (free weekly newspaper):
http://www.austinchronicle.com