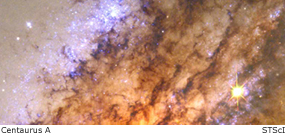 Announcements
Congratulations! You've made it through Dr. Bash's Astronomy 301 course!
Exams have been graded and returned to the boxes. Correct answers can be found here.
Your final averages have been posted on e-gradebook. Please double check everything to make sure it is correct. The curve that translates your number grade into a letter is here.
Please note that the actual number calculated by e-gradebook may be off by a little bit. In no case that I could find did this affect anyone's letter grade, but you should check to be sure.
Email Steven if you have any questions.
Have a great Winter Break!